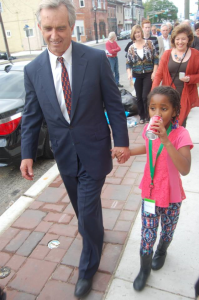 Dear Friend and Supporter of CFET,
The Center for Environmental Transformation is committed to educating all people, children and adults, Camden residents and visitors to Camden, about ways in which they can be more responsible in walking on the earth.
This past October we had the privilege of hosting Mr. Robert F. Kennedy, Jr. at the Center for our annual fund and friend raiser: The Thomas Berry Lecture. Mr. Kennedy was inspiring and eloquent as he presented a sober analysis of the state of American environmental policy, particularly as it pertains to energy production. However, the highlight of his time in Camden was his encounter with a young member of our neighborhood, Kiki Davis. This third grader at Sacred Heart School captured his heart from the moment she ran up to him on the street to the last moment she spent with him, sitting at his side as he greeted people at the reception. We've included a memento post card with a delightful photograph of RFK, Jr. and Kiki.
The Center is committed, through its programming for Camden youth, children Kiki's age and teens, to offer opportunities for Camden's children to blossom in their education, in their work-related skills, in their knowledge of the earth and its bounty, in their leadership potential and in the possibilities that life has in store for them.
We cannot do that work without the support of people like you. Our youth programming, our retreat programming, and our social entrepreneurial programming rest on the proposition that providing hands-on experience in the soil, air, and water of Camden sets in motion a transformation of perspective and of hope. We witness small miracles every day of children's eyes bursting with excitement at preparing a new vegetable; at learning about praying mantis' role in chemical-free pest control; at experiencing the Camden and its people that are not in the news. Will you join us in this great work of transformation?
Your contribution is completely tax-deductible. Write a check to the Center for Environmental Transformation. Send it to the address at the bottom of this letter. Or visit our website at www.cfet.org to donate online. Help us continue to do the wonderful work that we've been doing since 2007. With your support a child will be given the opportunity to learn about growing vegetables from seed to table. With your support a young person will have a job this summer. There is much at stake! You can be part of this effort in "hope creation."
Come visit us! You are always welcome.
Sincerely,
Teresa Niedda, Executive Director
Mark Doorley, Ph.D., President, Board of Trustees