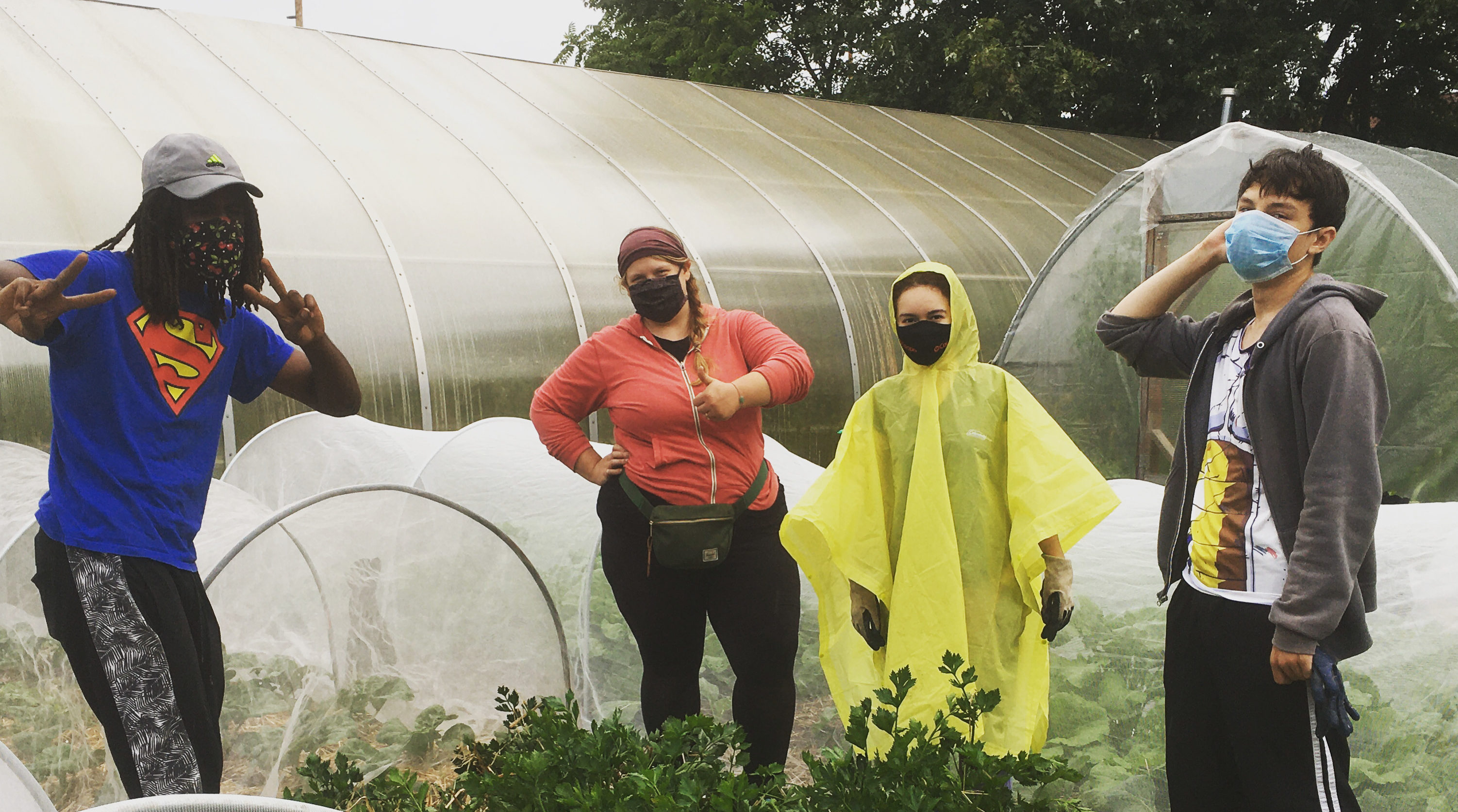 Mission:
The Center for Environmental Transformation (CFET) in Camden, New Jersey engages, educates, and inspires people to practice a more environmentally responsible way of living on the planet.
Vision:
In partnership with our neighbors, CFET strives to sponsor local solutions to environmental challenges.  In their own right these local solutions attempt to meet the need for a sustainable and healthy source of fresh produce for the children and adults of Waterfront South.  By welcoming others into this neighborhood, we hope to make Waterfront South a "seed bed" for the work of transformation that the current situation of the environment, all over the globe, demands.  We are creating space in which people of all traditions and cultures can gather to reflect on their environmental responsibility and learn through hands-on activity.
We intend to become for the people of Camden, as well as for those from throughout the region, an educational resource directed toward the transformation of our ways of walking on the earth – a transformation not only focused on changing behaviors, but more importantly, on changing our hearts and our attitudes, which will make more likely the permanence of our behavior changes.  We invite all who are willing and able, to join us in this work of treading more lightly on the earth and its resources.
Goals:
To partner with the people of Waterfront South, as well as organizations throughout the city, to produce organic, heirloom vegetables and native plant, and to discover ways to reuse material in the waste stream
To work with the residents of Waterfront South to advocate for healthy air, safe and clean streets, and sustainable employment opportunities
To host experiential learning retreats that are geared toward gaining a greater understanding of the principles of environmental justice and sustainability, thereby preparing adults and young adults to be educators in their neighborhoods, places of work or education, and home faith communities.
To host events throughout the year related to environmental issues such as an annual Earth Day celebration and an annual lecture in honor of Thomas Berry, a main source of inspiration for the work of CFET.
Our History
The idea for the Center for Environmental Transformation was born in the dialogue of a parish synod held in October 2005, when 360 parishioners of Sacred Heart Church gathered to talk about the future and our responsibility for it. A conversation began around the idea that Waterfront South in Camden, NJ is a perfect site for reflections on our responsibility to the earth: the water, the air, the animals, the plants, the trees and the people. We thought that we ought to address this responsibility, in activities ranging from land remediation to growing organic vegetables to planting trees to changing our own personal habits of energy consumption.
Since that time, CFET has become an agent for environmental justice in the Waterfront South neighborhood of Camden through collaboration with our neighbors, primarily by sponsoring projects like Eve's Gardens. We work alongside our neighbors to engage in actions that address the environmental challenges they live with. We are also an agent of education and training for people in other neighborhoods, both near and far. Our education focuses on helping others come to know and proclaim, in word and in action, each human being's responsibility to care for the earth.
Much of CFET's inspiration comes from the work of Thomas Berry, a cultural historian and self-described eco-theologian. His life's work was aimed at helping humanity to re-imagine its relationship to the natural world. For so long, and in many cases still today, humans view nature merely as a resource for the satisfaction of human needs and wants. Berry challenged us to come to a deeper appreciation of the fact that we are members of the community of living and non-living things that make up this universe. Our attitude toward nature ought to be one of reverence and awe, rather than exploitation and greed. This does not mean that nature is not a resource of the satisfaction of human need, but our pursuit of satisfaction ought to be tempered by respect for the value of nature independent of such need. It is through this re-imagined relationship of human beings in the natural world that we create our programming and outreach.
Board of Trustees
Mark Doorley: Founder and Chair
My name is Mark Doorley. I have the privilege to be one of the founders of CFET, having a dream back in 2005 which has grown into so much more than we had imagined. I took a break for a few years, but I'm back to help CFET move into the next phase of its growth. The mission of CFET has never been more vital to our future as a country and world. We must live more gently on Mother Earth, and CFET does its "bit" to make that more possible. In my day job I have the honor of serving as the Director of the Ethics Program in the College of Liberal Arts & Sciences at Villanova University. I am a big science fiction fan and must admit to loving all the Star Wars and Star Trek movies/shows.
Affiliations: Parishioner of Sacred Heart Parish in Camden, NJ; Faculty member at Villanova University
Kenneth E. Savage III (Kenny): Vice-Chair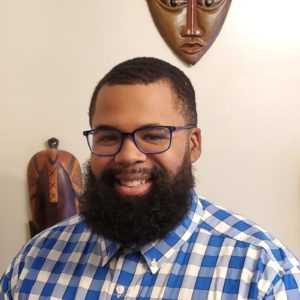 As a Marketing Specialist, I pride myself on understanding the community I am serving, which includes the needs, wants, and aspirations of its people. The most powerful way to learn about someone or help others is through communication and interaction; we must be a familiar face in the community and always have an open door and ear to whoever speaks. I care about the city of Camden; this community provided my education, my first real job, and so many friends and relationships. To be able to work with CFET towards a healthier more sustainable Camden while educating the future is beyond a blessing.
Affiliations: Co-Founder of iCreate Productions LLC;
Fun Fact: HUGE Carolina Panthers Fan!
Rose Alemi: Treasurer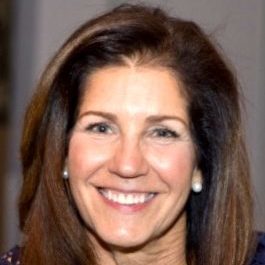 Rose Alemi is a graduate of Syracuse University with a dual degree in Marketing and Communications.  Rose has over 20 years work experience in the nonprofit sector as the Senior Event Planner at the Philadelphia Museum of Art.  She is responsible for the creation and production of fundraising and development events for the Museum and coordinating external events for corporations, organizations and convention groups.  Some of the highlights include World Meeting of Families/Papal Visit, Republican and Democratic national conventions, and Eagles Super Bowl Celebration.  In addition to her work experience Rose is committed to supporting her local community.  She has received the Woman of Achievement Award and Martin Luther King Service Award for her volunteer work in Haddonfield.  Rose has served on several boards including Haddonfield Farmers Market and Rutgers Master Gardeners.  She is particularly proud of her work at CFET where she can share her passion and experience to strengthen and improve the Camden Community.
Affiliations: Haddonfield Farmers Market; Rutgers Master Gardener Program
Erica Figueroa: Secretary
My name is Erica Figueroa. I was born and raised in the city of Camden, it is my home. As a member of CFET, I am able to contribute to my community in various ways. I am able to assist with the initiatives CFET have to offer, spread awareness to combat injustices of all kinds and educate the community on these matters. What I value about CFET is the sense of community they have created throughout the organization and their passion for all they do around environmental transformation. My first year on the board consisted of a lot of observation and finding my footing. As I move into my second year, I see myself increasing my involvement within CFET and the community, building relationships/rapport, and working towards changing the narrative for the City of Camden.
Cathy Nevins: Founder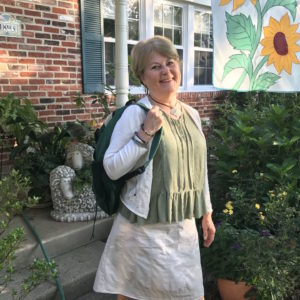 My name is Cathy Nevins. I have been part of CfET since our foundation 15 years ago. At CfET, my focus has been the Immersion Retreats where we are able to bring students or adults together to work in Camden towards environmental, racial, social, and economic justice. By experiencing both the struggles and the resurrections of all our neighbors in this Invincible City, we are transformed and we can go back to our homes/schools/ communities as voices of experience and change agents for the good.
I have worked with young adults, families and community groups for most of my life in my positions of family therapist  and school social worker. Although I'm retired from my previous work, I believe that my focus now is to Rewire and Refire. My hobbies include gardening, studying and learning about the "entanglement" of all nature, and actively cultivating networks of support to live more in communion with Earth.
Affiliations: Parishioner of Sacred Heart Church in Camden, NJ; State licensed marriage and family therapist, a licensed school social worker, and  a member of Pachamama Alliance; Parent of 4 and a grandparent of 13!
Racquel Barnes
Racquel Barnes is a Health, Transformation, and Yoga Coach who specializes in helping people reduce anxiety, manage stress, and avoid burnout. She is the CEO/Founder of Fit2You Wellness, LLC. an organization dedicated to providing wellness-based workshops, programs, and coaching services for schools and organizations to support the well-being of their staff. With over 18 years of experience in the wellness industry, Racquel uses her knowledge and expertise to create custom programs and services to support individuals, groups, and organizations. Racquel has a B.A in Health & Exercise Science with a specialization in Health Promotion and Fitness Management from Rowan University. She is a licensed NJ K-12 Health/PE Teacher and holds the following certifications: Health & Well-being Coach, Mastery Transformation Coach, Yoga Coach, Zumba/Zumba Gold Instructor, and 200 RYT Yoga Instructor.
As one of the newest board members for the Center for Environmental Transformation (CFET), Racquel is no stranger to the organization. She taught in Camden for over 14 years and was a champion for the Campbell's Soup "Healthy Communities" program. She worked closely with CFET and FoodCorps service members to organize programs for students and staff. Racquel has been a community liaison for many years and is an advocate for wellness in schools and underserved minority communities.
In addition to her work with CFET, she works closely with the African People's Education and Defense Fund (APEDF) and All African People's Development & Empowerment Project (AAPDEP) to develop, plan and implement initiatives, and events that promote self-determination in the black community through health/wellness and education. She is the host of a show, "Living Well with Coach Racquel," on the She is Still Dope TV Network. The show provides practical tips to help people navigate their wellness journey.
Racquel loves spending time with family and close friends. She enjoys planning and attending women's retreats, trying new activities, and exploring hiking trails when the weather is nice.
Affiliations: CEO/Founder of Fit2You Wellness, LLC; African People's Education and Defense Fund (APEDF) and All African People's Development & Empowerment Project (AAPDEP)
Portia Simmons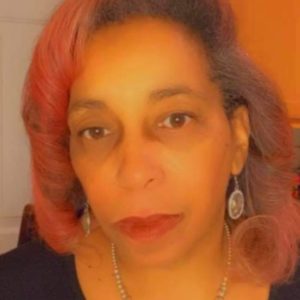 I am a proud "Jersey Girl"; born in Jersey City, raised in Newark and recently purchased my home here in Camden. I am a United States Army Veteran and have a background in Journalism, Public Affairs, Fund Development and Social Services. I have degrees in both Addictions Counseling and Human Services. I am excited to be a board member of CFET because I believe in its vision of providing information and education opportunities to improve and make positive changes to our environment. I am also a Reiki practitioner, a facilitator for Warrior Writers Workshops and an active member in The Mission Continues. Recently, I have started a small business, Garden Party! which provides instruction and supplies for making home terrariums. I look forward to working with the board, staff and volunteers.
Fun Fact: I had such a huge crop of cucumbers last season at my CFET garden bed that I learned how to make pickles
Cheryl Heatwole-Shenk
Cheryl has been connected with CFET since it's early days. As a college student studying environmental science, she spent the summer of 2006 as an intern in the greenhouse and gardens. Cheryl and her family have lived in the Waterfront South neighborhood of Camden since 2007, where they are regular customers of CFET's farmers market and enjoy speaking to retreat groups at the Center. Cheryl teaches in the Montessori preK/K program at Sacred Heart School, which she helped to found in 2015. Her passions for environmental, social, racial, and educational justice motivate her work to provide Montessori education in Camden and to support the mission of CFET. How did this native of southwest Virginia end up in Camden? The story begins with two people (not her!) meeting on a volcano in Guatemala in 2003. It's a long story…
Affiliations: Sacred Heart Montessori School
Shaniqua Biles
Born and raised in Camden, Shaniqua is a passionate community servant and environmental justice advocate. She has worked at various non-profits in the city of Camden focused on issues related to substance abuse, mental health, re-entry counseling, and environmental justice advocacy.  Her work and methods are always driven by those disproportionately affected should speak for themselves. 
She previously managed an initiative, a solutions-oriented partnership between governmental, non-profit, private, and community-based agencies formed to plan and implement innovative strategies to improve the environment and the quality of life of Camden's residents. Initiative area of focus: Air Quality, Waste, Recycling and Illegal Dumping, Land Use and Brownfields and Food Access.
Affiliations: Member of the NJDEP Environmental Justice Advisory Council and New Jersey Future- Sewage Free Streets and Rivers Advisory Board;  Licensed social worker in the State of New Jersey
Fun Fact: She enjoys fishing and caught 21 Mackerel and 1 Sea-Bass in one day!
Francine Grabowski (sabbatical)
Board Consultants
Michael Doyle
John Catalano
William Harden
William Stehl
Rosie Hally
John Levy
Andy Kricun, PE
Staff
Jon Compton (director@cfet.org) Interim Executive Director
Britani Nestel Morgan (youthcoordinator@cfet.org) Youth Wellness Coordinator
Kathryn Cruz (environment@cfet.org) Environmental Justice Coordinator
News
Click here to read the monthly newsletter from our board chair!