Gratitude is November's reminder
2020 has been a year for the record books. A pandemic, an epic Presidential campaign, an economic meltdown, ferocious storms in the Atlantic, hellish fires on the west coast of North America and growing movements of people because of climatic changes. This year has been filled with so many challenges that it is not easy to be grateful. But there is much to be grateful for, as always, if we have eyes to see it and ears to hear it, despite evidence to the contrary. Let's consider the evidence.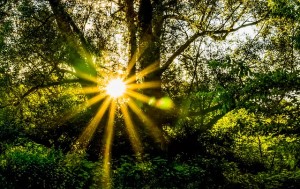 We have been quarantined at home for much of the last nine months. We've been able to catch up on those household chores we've been putting off. We've taken up new hobbies to help us pass the time. We've discovered new ways of connection over zoom or Google Hangouts or Microsoft Teams. We've created new family traditions that enable us to celebrate birthdays and holidays with family we can't physically be with. For those of us who have lost a loved one this year, we've discovered new ways to include far flung relatives in the celebration of their lives.
There has been an upsurge in gardening and a growing attention to the environment, whether in our backyard, a local park, or our regional ecosystem. People are getting out for hikes who have never done this before. They are discovering the hidden gems that are right there in front of us, but which are bypassed in our hectic lifestyles. People are taking walks in their neighborhoods, connecting with people they may have never met but who have lived four houses down from them for years. There has been a surge in creativity to find ways to create art in the time of a pandemic, to continue theatre productions when people cannot gather for an in person experience. There is much to be grateful for.
And we can't ignore those who have been the backbone in keeping our society functioning as the pandemic continues to wreak havoc. The front line workers make our lives possible: EMTs, fire and police personnel, the nurses and doctors and staff of our hospitals, the people delivering food, preparing food, cashiers at drug stores and grocery stores, our teachers, the tech people who keep the virtual institutions running. There are so many people who have borne the brunt of this disease, typically low-income workers who can't telework. And they often become sick, and many have died. They are heroes for doing their job, and we should be grateful for them.
There are so many who have died because of this virus, and likely many more who have died because of the obstacles the virus as created for normal living. We stand at nearly 250, 000 dead from the virus. It is a staggering number, and our hearts go out to their families. Over 9 million people in the US have recovered or are in the process of recovering. Gratitude for the healthcare workers who worked so diligently and tirelessly to care for them, and for the families of these sick people, who never gave up hope. There is so much pain this year, so much suffering, but it is pain and suffering we bear together. No one need be alone in this terrible time, and gratitude rises from the deep realization that we are together.
At CFET we are deeply grateful for the amazing people who have rallied to help us respond to the pandemic in our corner of Camden. We shifted our efforts to grow as much food as possible, available to resident at our Farmer's Market and whatever was not picked up by residents, we gave away to several non-profits who provide food for people. We also had 12 residents take over care of a raised plot in the Liney Ditch garden. This was a 400% increase over last year! Our goal over time is to have the entire Liney Ditch and its 50 raised beds "adopted" by residents.  We were able to hire youth this year, who worked in the gardens, were able to supplement their families' incomes and brought fresh produce home. All of this because of the generosity of our network of supporters, people like you.
We salute you and thank you! We know you support the work we do, and we will count on you as we move forward.
This is the month of gratitude. It has been a crazy difficult year. But you can find much to be grateful for, if you look closely enough. Every night promises the dawn. May gratitude rise in your heart just as the sun never fails to rise in the east.
Peace, and Happy Thanksgiving!
Mark Doorley, Ph.D.
Chair, Board of Trustees
CFET